Welcome to Hansa New Zealand, home of our global headquarters! We have a number of local offices around the world. If we have zoned you incorrectly, please select from the following options.
Frequently Asked Questions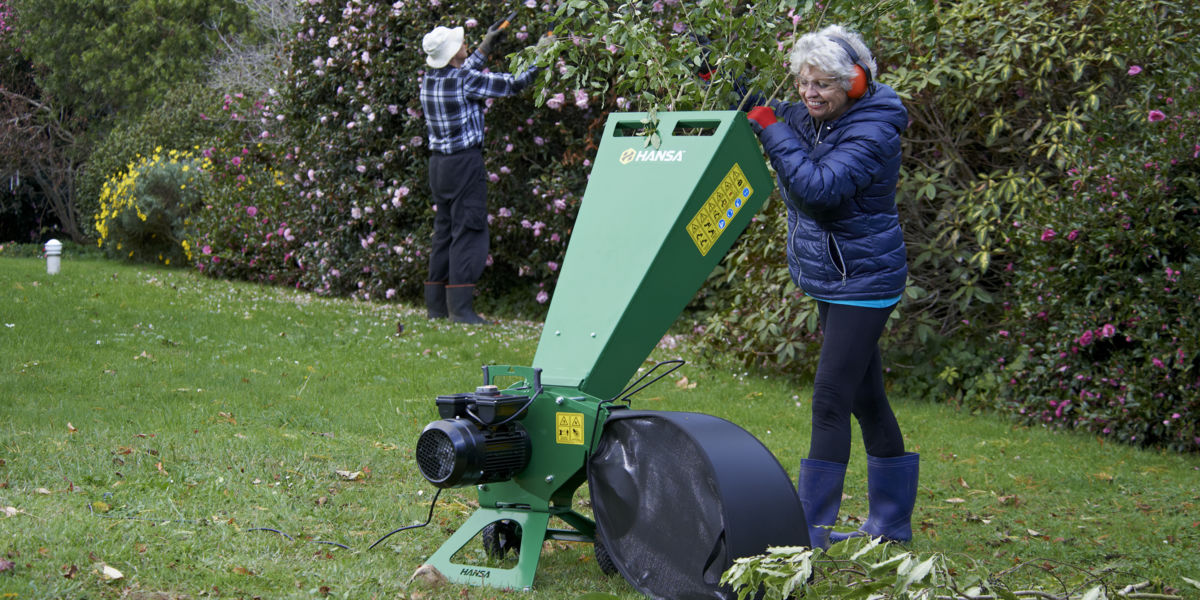 Frequently Asked Questions
What is a wood chipper for?
A wood chipper is a sustainable and convenient alternative for processing pruning's and garden-waste. Unlike burning or dumping, the green-waste can be processed in the garden, right where you need it, minimising handling, saving you time and effort.
Chipping also reduces the bulk of branches by up to 4x when it is processed into woodchip. This helps to keep the garden tidy, and the woodchip can be used as mulch. Apply it around trees, garden beds, create pathways, add it to your compost. Using woodchips in your garden will help to suppress weeds, retain moisture and improve the quality of your soil.
A wood chipper turns your waste into an asset that helps make your garden better and better over time.
How do I use a wood chipper?
Chippers are easy to use. The start up process varies between models, so it is important to read the user manual guiding you through all stages of assembly, operation, maintenance, and safety. Once underway branches are fed into the inlet chute, the machine will the drag them through the machine, ejecting the woodchip from the outlet chute. You can download the manual from the "Maintenance Manual" link at the bottom of each product page on our website.
If you have further questions or if you are in need of further information, please connect with your local garden machinery dealer or contact Hansa directly.
What can I put through my Hansa chipper?
Tree branches, pruning's, hard wood, soft wood, palm fronds, bamboo, hedge clippings, garden waste (free from soil and debris)
Can a Hansa chipper handle plastic, tyres, cardboards or other inorganic material?
We strongly advise you not to use the chipper for any other purposes than stated in the user manual. Be aware, that stones, soil, sand, gravel, glass, stones, metal pieces, or other foreign objects fed to the chipper will damage the cutting blades and potentially the machine.
Is it dangerous to use a wood chipper?
It is important to carefully read and follow the safety instructions in the user manual. This will help you to be aware of the dangers when using a wood chipper, we also advise you to wear safety glasses, gloves, and dust masks (when you process dry material). Ask your local garden machinery dealer for a demonstration if you are unsure.
Where can I buy a Hansa chipper?
Hansa has a wide network of dealers. Use the ""Find A Dealer"" option on our website to find a dealer near you.
If you can't find a dealer in your area, please use our contact form. See the link below.
How much does a Hansa chipper cost?
Prices of each machine can usually be found on our website and will vary based on your country.
Some larger machines will not have a retail price available – if you cannot find a published price on our website, please contact your local garden machinery dealer or Hansa directly to receive a quote.
I don't want to buy a Hansa chipper yet, can I rent one and where?
Yes, you can!
If you're from NZ and AUS we have a dedicated search option on our website to help you find your local Hire Centre.
If you are in Europe or UK, most garden machinery dealers offer Hansa chippers for rent. Please contact your local garden machinery dealer for more information, or contact us today!
Which Hansa chipper suits me best?
The best wood chipper is the one that is right for your requirements. Here are some questions that will help you decide which wood chipper suits you best:
How often will you be needing the machine?
What type of pruning's will you be chipping?
What is your expected max diameter of these pruning's?
Where will you be chipping, will you need to be able to tow the machine behind a mower, quad, or vehicle?
Answer these, and you will be well on your way to choosing the right machine for you.
I am a private gardener, can I also buy a Hansa chipper?
You sure can. Our garden range offers options for small private gardens, starting with an electric C3e or the motorized equivalent with a chipping capacity of 40 mm up to the bigger C7 that handles up to 70 mm in diameter. To find the chipper that suits your requirements, just answer the above questions or get in touch with us, so we can help you further.
How often does my Hansa chipper need service?
Please refer to the user manual section "Maintenance" for recommended service intervals and required services. We advise you to have all repairs carried out by an authorized dealer in order to meet warranty requirements.
Can I sharpen the knives of my Hansa chipper by myself?
Yes. Please follow the guidance and safety instructions in your user manual – section "Maintenance > Re-sharpening and knife re-placement". If you don't have a surface grinder or are unsure how to re-sharpen the knives, contact a professional garden machinery dealer, saw-doctor or Hansa to arrange re-sharpening.
How long will my Hansa chipper last for?
Made of steel with a robust design and finished with a durable powder coated finish. Hansa chippers are made to last for decades.