Welcome to Hansa! We have a number of local offices around the world. If we have zoned you incorrectly, please select from the following options.
What You Need to Know When Buying a Chipper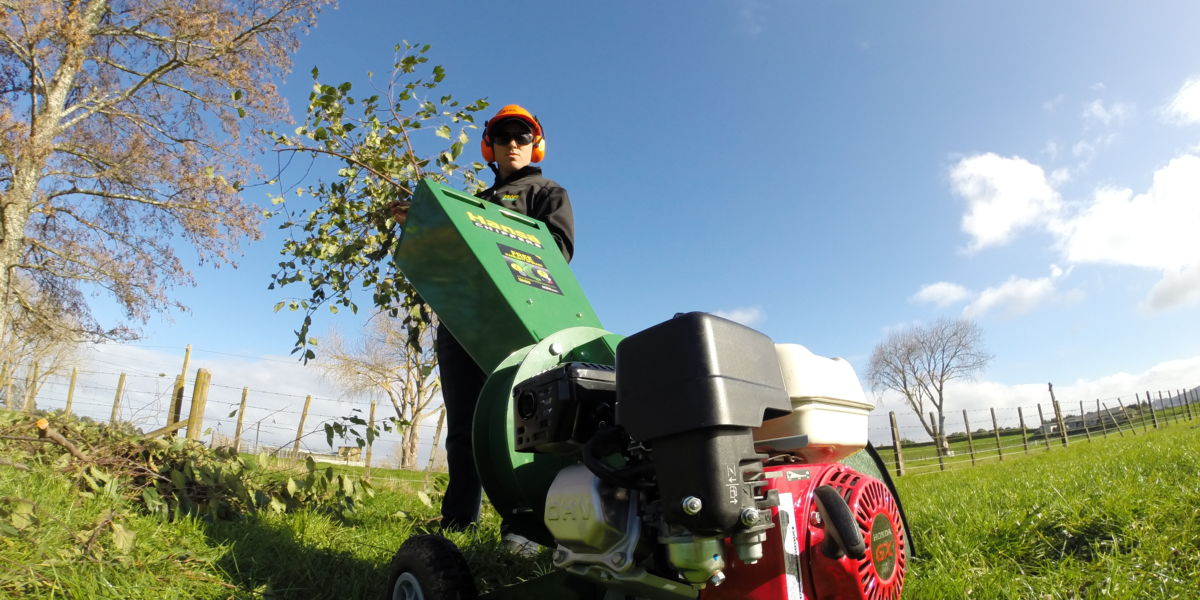 What You Need to Know When Buying a Chipper
It's common to see piles of messy prunings from hedges or shelterbelts piled up in a paddock, waiting to become a big, smoky, smelly, climate-clogging bonfire. But Steve Childs of chipper company Hansa sees something very different: potential.
"(Chipping) has been gaining popularity as more people are looking for cleaner and greener ways to get rid of waste. With chipping, your green-waste becomes valuable mulch that can be reused in raised gardens and at the base of trees. It helps retain moisture, suppresses weeds and breaks down into nutrients for the plants when it decomposes. We're helping to stop all those bonfires, it takes up less room and there's no need to wait for the wood to dry out."
A large chipping machine can be intimidating the first time you use it, but Steve says he finds customers are quick to take to it.
"(Chipping) actually becomes quite therapeutic when you're turning a massive pile of bush into a new pile of mulch. You'll be amazed how quickly our chippers can chew through a days' worth of brush!"
The biggest mistake people make: choosing the wrong product
Steve says it's common thing for people to under-estimate their needs.
"Plants grow, and people tend to upgrade to bigger properties…" said Steve.
As a manufacturer of a full range of chippers, Hansa has chippers from 30mm up to 265mm capacity suitable for gardens all the way up to commercial users.
"Many brands only specify theoretical maximum capacities, which makes it difficult for consumers to find the right size (Hansa uses field tested capacities). People often choose chippers based on price – and they end up with chippers that can't handle the job they needed it for in the first place."
While mileage will vary based on what is being chipped, a good quality chipper – like a Hansa - can really last you a lifetime if it's kept well-maintained.
4 Questions you need to consider
Capacity - What size material will you be chipping most, and how often you will be chipping it?
Growth – Is your property size, or number of mature trees expect to grow?
Manoeuvrability – how you will move you chipper around? Does the chipper you want have tow-able, road-towable or tractor driven options?
Maintenance – like a mower, chippers require regular servicing to stay sharp. Does the chipper you want have NZ warranties, service agents or parts readily available?
Chipper maintenance requirements
A chipper should always come with a manual outlining how to use and care for the machine.
Blades: chippers rely on the blades to do the hard work. Wearing over time, blades need to be checked and sharpened or replaced occasionally to maintain performance. Dull blades often show by producing bigger chips than sharp blades, and for self-feeding chippers like Hansa's, the pulling action will slow and eventually stop. Since knives need to be sharpened to a precise angle, talk to the dealer where you bought your machine. Hansa offers an overnight sharpening service to its customers.
V-belts: these require regular tensioning.
Grease points: these require greasing after a certain number of operational hours.
"What we ask our clients to check before using a chipper are the blades and the belts. Dry wood, soil and grit transferred from branches that have been sitting on the ground are probably the worst things when it comes to dulling the blades quickly. On smaller machines we'd recommend checking them every 10 hours. It all depends on the environment they're working in."