Welcome to Hansa! We have a number of local offices around the world. If we have zoned you incorrectly, please select from the following options.
From Honey Shed to Global Headquarters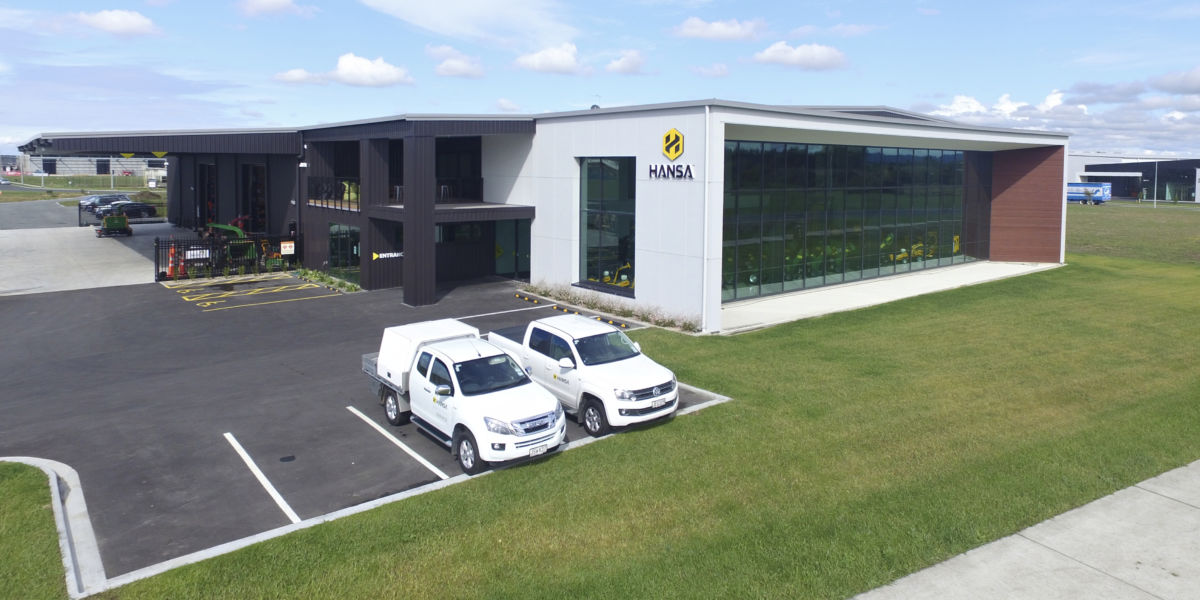 From Honey Shed to Global Headquarters
Waikato is full of success stories, and Hansa - the specialists in design and manufacturing of high-quality wood & brush chippers - are no exception. First established in the 1980s, Hansa started their humble beginnings inside a Ohaupo honey shed, but are now recognised throughout Australasia for their 'world-class chippers' made right here in New Zealand.
Going from strength-to-strength, Hansa has outgrown its last 3 homes, and are now announcing the completion of their newest headquarters. Opened by three generations of the Vogel family, the new 3000m² headquarters in Northgate, Hamilton stands for one of Hansa's biggest beliefs – providing a sustainable business for generations to come. The new premises are designed to enable sustainable growth and fulfill growing demand in Australia, New Zealand and beyond.
Past
Formerly known as Hansa Chippers, Hansa's strength has always taken a customer focused approach to continuously sharpen its designs. Founder Manfred Vogel, first saw an opportunity for chippers soon after settling in New Zealand, "I could see the overseas trend coming and yet nobody here was interested in making shredders, so in 1981 I left my job and started to make them myself."
The humble beginnings in New Zealand's small market means Hansa had to prove themselves in both reputation of product and in service. Now this second-generation manufacturer supplies over five countries, and as a testament to their staying-power Hansa has now been manufacturing in New Zealand for over almost 40 years and supplying to Australian dealerships for 25 years.
Following in the footsteps of his father and earning a mechanical engineering degree, Martin Vogel is the current Managing Director of Hansa and has been involved with Hansa from day one. Taking over from his father in 2008 Martin ensures that everyone involved in the business, including the customer, is treated as part of the Hansa family.
Today, its precision engineered brush chippers are among those heralded as the best in the business. Hansa are now about to reach 25,000 chippers made and sold, and stand by their goal to keep customers for a lifetime with dependable chippers they love to use.
Present
Martin Vogel says there has been an increase in demand both Australia and New Zealand, which he puts down to two factors.
"The market itself is growing in that people are becoming more aware environmentally about the cost of disposing green waste material," he says.
"The second one is just growth of our market share in the industry."
Hansa Chippers also looks to improve its delivery beyond just product. Learning from its strengths, the Hansa team know customers enjoy being able to deal with manufacturers directly. Listening to its customers is a core part to how its in-house engineering team innovates.
Future
Hansa is expanding. After the recent completion of their new purpose built 3000sqm building on their 8500sqm of land, Hansa is well geared to increase production capacity and meet growing demand. Always investing in design and quality, Hansa see's the new site as the next stepping stone to reach ambitious (yet very achievable) milestones in sales – the first being the completion of their 25,000th chipper which they anticipate to reach in early 2019.
Martin said, "Hansa has a strong reputation built over the last 35 years and it is our goal to build on this reputation with quality products and service that our customers love to use for a lifetime."
"We have enjoyed seeing the business grow and to watch it move in the direction it is going. There is so much satisfaction for us as we do the whole process ourselves from the development to the manufacturing, sales and receipt of feedback.
"For the future, we will continue to focus on core quality which is so important when you are competing in a world market. "It's not about getting every possible customer because you won't always be able to. It's about retaining a market share by doing business sustainably and playing our part in what is really a niche market."
The hew headquarters includes additional factory, storage, service and office spaces. Like the current factory, the new facilities will also include a dedicated powder coating plant, pre-coating treatment facilities and robot welder to offer unmatched accuracy of parts and durability of finish.